"It's a thin line, between…"
Race and its impact on the sports world might be as closely tied together as the rules are to gameplay. For decades, authors and commenters have chronicled the symbiotic relationship between race and the social understanding of American and global sport: from any book written about the American Negro Leagues, to Kenneth L. Shropshire's In Black and White: Race and Sports in America, to William C. Rhoden's Forty Million Dollar Slaves. Race will always live within sports, and it is impossible to discuss sports without acknowledging the construct of race – or so you'd think.
Started as Flournoy Over Riley and focusing on race and sports, the Thin Line Collective picks up where F.O.R. leaves off. We began as one man's – one team's – attempt to start a conversation. We continue as a collective, seeking to further the dialogue and highlight the intersection of race with other aspects of society. Rather than accepting the reports and stories we are given through media that simply ignore race, we want to dig deeper: to explore the link between race and sports, race and media, race and music, race and politics, and race and whatever the hell else exists. Our goal is to discuss the far-reaching implications that surpass the box score; to be unafraid of addressing the elephant in the room.
It all started with an email. One discussion, started by one story, shared between 30-plus people, blossomed into a chain of 283 messages (but who is really counting?) that touched every facet of what we read – piggybacking, re-stating, branching out, vigorously debating, listing, asserting, and very quickly taking on a life of its own. When the smoke cleared, lightning struck: we decided to take our discussions, our thoughts, our passion to the blogosphere.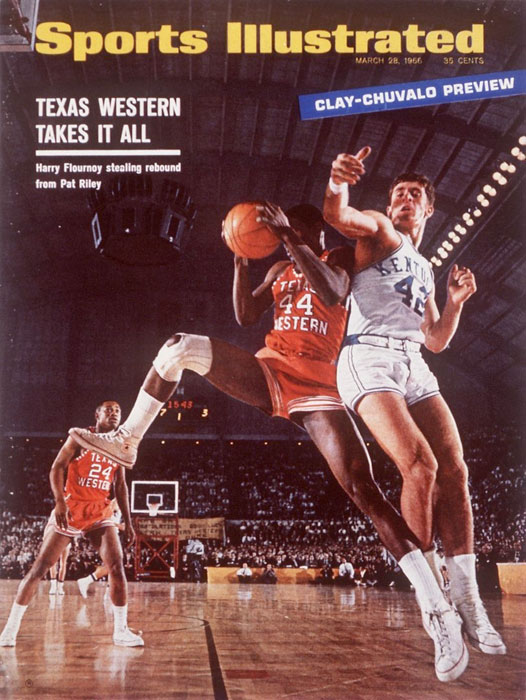 And here we are.
Our history is exemplified by the linkage that drives our dialogue. In 1966, Don Haskins' Texas Western basketball team ran five Black players onto the floor of the Cole Field House in the NCAA Championship game and changed history. Their win over the all-white University of Kentucky team of Adolph Rupp would forever alter the landscape of college basketball, while providing an indelible image of race in American sports for all to see – quite literally, in black and white. One week later, Sports Illustrated famously memorialized Texas Western's victory with a photograph of 6'5" Miner senior forward Harry Flournoy pulling down a rebound over future NBA legend Pat Riley. We've chosen that image, that concept of Thin Line Collective, to represent the fight, the struggle, the contrast, and the competition between race and the rest of society: forever linked, and inevitably in conflict.
We are not affiliated with any network, periodical, or company. We are just a regular group of public college-educated, smart-alecky, quasi-liberal, closetly-conservative, less-than-ultra militant sports fanatics (and friends) that share a passion for understanding the intricacies of race and wanting to see our favorite team win the next championship. It is our goal to bring you our unfiltered, hopefully (but probably not) unbiased opinions about how race is an integral cog in today's sports world.
This is Thin Line Collective.
Read. Discuss. Enjoy.