Racist commentary in sports used to be so simple to identify.  It was piercing.  It was blatant.  It was something that made the individuals reading or hearing it for the first time, tense up and feel, at the very least, conflicted.  Over 100 years ago baseball manager "Cap" Anson yelled out "Get that nigger off the field" which was directed at the opposing team's only Black player, Moses "Fleetwood" Walker.  Art Rust Jr. wrote a book in 1992 inspired by that quote.  That statement was prejudice down to its core.  Those were the (not so) good-ole days.
Things are not the same nowadays. Twenty-first century racism is not always going to jump up and hit you in the face.  It has more of a fastball-up-and-in, "brush-back pitch" type of feel; it usually catches you off-guard and knocks you on your back.  Be not fooled.  Even though it does not have the same bite, covert racism is just as palpable and prevalent.  It is just more difficult to identify.
Let's welcome in Charlie Strong, head coach of the University of Texas Longhorns football team, and Mo'ne Davis, 2014 Little League baseball pitching sensation and current all-around teen star.  Strong and Davis were both recent victims of "brush-back" racism. The comments made about these two were so un-blatantly prejudice, if you blinked you may have missed the soft, subtle tones of "Cap" Anson in each statement.  Luckily, I am here to pull back all of the layers.
In January 2014 when the University of Texas hired Strong as their head football coach (the first Black head football coach in their history) from the University of Louisville, his hiring was met with mixed reactions.  None more compelling than those of Red McCombs, former Minnesota Vikings owner and Texas football booster.   McCombs eloquently described Strong's hiring as "a kick in the face" and that he would be better suited as a "position coach. Maybe a coordinator."
At first glance, in today's world of social media and constant interviews, these words are merely critiques, opinions expressed by one contingent towards another.
But after dissecting Strong's coaching qualifications that include the following:
– 3 years as a defensive coordinator at the University of South Carolina
– 7 years as a defensive coordinator at the University of Florida,
– 4 years as the head coach at the University of Louisville,
– only 2 seasons where he failed to finish with at least 7 wins either as a coordinator or head coach
– 2 BCS championships as a defensive coordinator
– 1 BCS bowl win as a head coach
it is evident that Charlie Strong is much more than a coordinator, and light-years past being a position coach.  McCombs intentionally diminished Strong's qualifications, to the point that it was downright insulting.  Thus, after a second glance of his comments, taking into account all of Strong's accomplishments and the proclivity of Black America to believe that Texas is the most racist state in America, you just can't help but to experience a Dave Chappelle moment.
That was racist?
Mo'ne Davis experienced similar fortunes this Spring 2015.  Fresh off her introduction to the nation during the Little League World Series, and her celebrity stardom moment of breaking Kevin Hart's ankles, Davis had been recently informed that Disney would be making a movie about her.  The only word I can muster up to surmise being a random 14-year old girl in Pennsylvania one summer to having a movie made about you the next summer is…"DOPE!"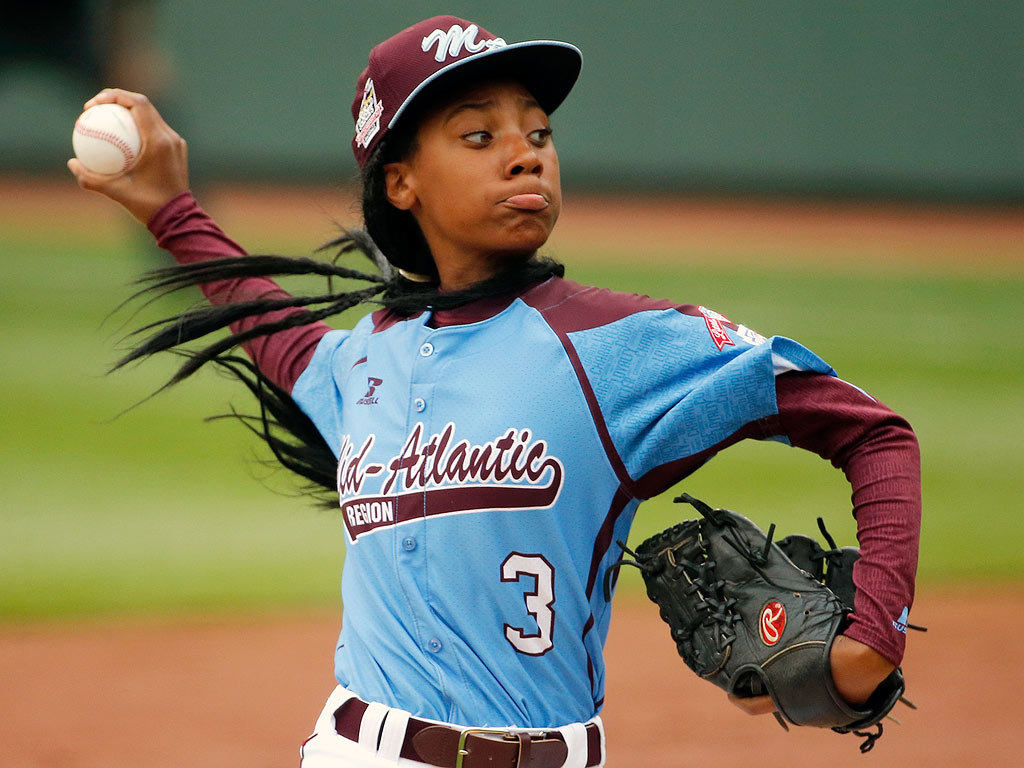 Apparently not everyone was thrilled with the news of Davis' new theatrical biopic.  Joel Casselberry, a first-basemen at Bloomsburg University in Pennsylvania offered a few choice words.  "Disney is making a movie about Mo'Ne Davis? WHAT A JOKE. That slut got rocked by Nevada."
To be fair, Davis did get "rocked by Nevada."  But what exactly qualifies her as a slut?  Similar to McCombs, the resentment expressed in Casselberry's statement feels fueled not only by mere jealousy, but by the confounding premise that a Black girl could be such a star for simply doing what young (white) boys do every summer—strikeout batters during the LLWS.  If Davis' gender and race were integral in gaining stardom, then they also become components of her criticism.
That was racist too?
Similar to the response of a "brush-back" pitch, when 21st century prejudice approaches today's sports figures, all there is to do is pick yourself up, wipe off the dirt and dust, and keep on moving forward, hopefully stronger than before the incident.  Strong and Davis did just that and both responded admirably to their incidents.  Davis actually asked for Casselberry to be reinstated to his collegiate baseball team after Bloomsburg University immediately dismissed him.  Strong cleared the air and chose to speak with McCombs stating that "We need to band together and become that family we are because this is the Longhorn family and I want you a part of it."
But to be clear.  That was definitely racist.